When choosing a topic for our inquiry project, we were instantly drawn towards a tech in PE inspired blog as it is something that has always sparked our interest and is something we are interested in learning about. When beginning this project, we looked at the diagram below to help us figure out what to consider and how to go about this project. In this first post, we will be exploring the "I Wonder" block by going over our initial thoughts and questions.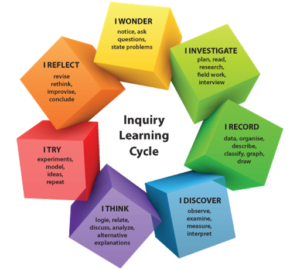 For this inquiry we are hoping to explore technology in the sense of being physical education. We want to dive into the question of how can incorporating technology improve our health and fitness and how can it be utilized in the classroom. With this topic in mind, we will be considering things like:
What are the pros and cons of technology in PE?

What are the risks of technology in PE?

What

types

of technology can you incorporate? 

What different ways can technology be incorporated in the classroom?

What tips do people have for smoothly incorporating tech in PE?

What are the systems current stance on tech in PE? How do teachers currently feel about potentially incorporating it in their PE classes?

How can we educate teachers on utilizing technology in physical education?

What does the future of technology in PE look like?
Now that our questions are laid out, it is important that we consider how we will go about the rest of this project. With these questions in mind, we plan on exploring the investigate, record, discover, think, and try blocks of the diagram above. For the "investigate" and "record" blocks, we will do research on our different questions and begin formulating ideas. For the "discover" block, we will observe and examine different classrooms (as much as possible) and reach out to individuals who may have valuable information for us, for example, our PE teacher. For the "I think" and "I try blocks", we will relate our findings to ourselves and think about how we could put them into action. Ideally, we would have liked to think of ways we could incorporate this into our upcoming practicum; however, with this being cancelled, it will be more of a theoretical application. Finally, the "reflect" block will be our blog posts where we post our journey of finding information and reflect on the outcomes. It will include some of the research we have gathered and links to sources that have guided our journey and findings. These posts will include pictures/videos of things we found interesting, cool, and educational. The blog posts will also be a place for us to consider how we can change/improve things and ask any further questions that may come up. Overall, with these blogs, our ultimate goal is to figure out something new about technology, expand our mindset on how technology can be used, and learn something that may be beneficial to us as future educators.
xoxo missrose and mickybecks
Photo Credits: Header photo by Alexandre Debieve on Unsplash & Diagram photo by Brynn Courtney